Regional qualifiers ready to shine at Turner Stadium
Starting today at Turner Stadium, the track and field team looks to advance its athletes to the 5A state championships.
After strong performances at the area track meet, eight athletes advanced to regionals. With Humble ISD hosting the meet, the athletes are excited to compete in front of friends and family. The competition begins today and runs through Saturday. 
"Turner is so popular that there's going to be a ton of people, which is going to be awesome," junior Solomon Karash said. "It's going to be like being in the Olympics."
On the girls side, freshman Courtney Daniel will compete in shot put and sophomore Eva Abshire will compete in the 100 and 300 meter hurdles. 
Abshire shined in the district and area meets and is currently .04 seconds away from attending the Nike nationals track meet in Oregon this summer. 
Abshire started using track to help destress after a surgery sidelined her from gymnastics, which was her main sport. She is now trying to stay focused and reach her ultimate goal of making it to state.
"Just stay calm, don't get freaked out about any of your races, have fun with it," Abshire said.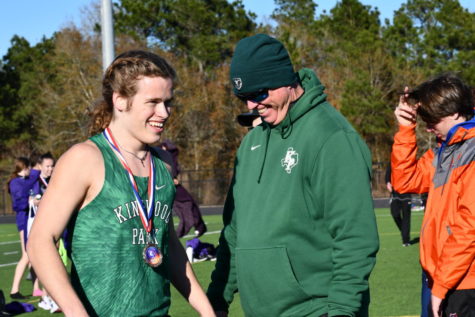 For the boys, senior McCormick Johnson will compete in the pole vault and senior Quinn Keeler will compete in the shot put. 
Junior Trent Burningham will compete in the 400 and 800 events, while also competing with the 4×400 relay team with Karash, junior Jose Maldonado and sophomore Greyson Tedrick. Senior Liam Campbell was part of the qualifying 4×400 team but injured his ankle and cannot run. 
"We have a couple of good alternates so we'll be safe on that," Maldonado said. "We're prepared for it. It's just business as usual."
The 4×400 team has had a good season and hope to shave off enough time to advance to state. 
"All of us have to shave off at least one to two seconds, which seems theoretically impossible," Karash said. "But we've been able to do things that are never seen, so I think we can do it." 
Burningham is competing in the most events of any of the athletes and his teammates are excited to cheer him on. 
"He has been the turning point for all of us," Karash said. "Everyone's seen how fast he can get and everyone has just worked so hard to keep up with him, so it's really helped."