Conservation Club renovates Jack Fields Elementary garden
What started as a project of having elementary students paint rocks turned into a service project connecting Kingwood Park's conservation club with Jack Fields Elementary. In January, the Jack Fields garden was filled with leaves and weeds. After a few visits from members of the Conservation Club at Kingwood Park, the garden is cleaned out and covered by new mulch.
Sophomore Maya Ortiz spent last summer volunteering in the youth program at the Houston Zoo and it inspired her to encourage conservation at the school. She founded the conservation club, which listened to guest speakers, learned how to turn old t-shirts into bags, and gave out seeds for Earth Day.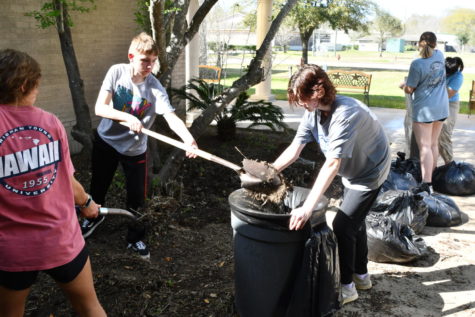 "The original goal was to start a garden at Kingwood Park, but there's no better way to get experience at a garden than by helping out someone else," Ortiz said. "When I learned that Jack Fields Elementary wanted to clean up their garden and needed help, I reached out to the assistant principal."
Although it's been a small group of kids working on the garden, they took on the challenge. The kids worked a total of five hours between four days. Assistant Principal Kelly Myers said the garden would have at least taken her 30 hours by herself. Myers was one of the most helpful people for Ortiz when starting the garden.
"She's been the one I've been corresponding with and she's been really good about communicating and giving us this opportunity," Ortiz said.
The was finished earlier this month. The kids finished clearing and putting down mulch in all the sections. Ortiz said the most rewarding part was just knowing that they were helping out this elementary school.
Working on the garden has given the students time to hang out with their friends while also bettering the community. In the future, Ortiz hopes Conservation Club can start a garden at Kingwood Park and try to do recycling at least once a month since the school doesn't have a recycling program.
"All of them care about the environment and a lot of them want to do something with the environment in the future,"Ortiz said. "So it's a really good group of people who are inspired to help make a change and help out."