Signs of Love
Catcher Rayne Brittain appreciates the constant support from his deaf parents.
While the varsity baseball team was having its annual mother and son dinner, each player gave a speech about their mother. They mentioned why they love and appreciate their mom. 
Most of them highlighted the sacrifices their moms made for their families and for them to play baseball. They looked into their moms' eyes or at their written speech to show they cared. Their voices were just loud enough for teammates to hear.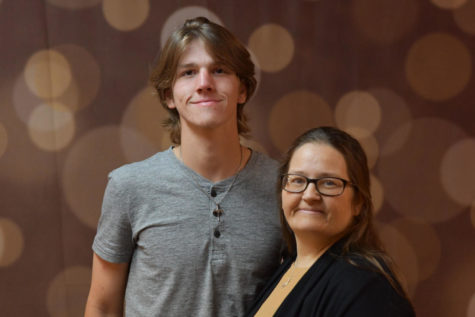 Rayne Brittain had a different approach. The sophomore catcher handed a teammate his phone with his speech open on the screen. Then he lifted his hands chest high and began to sign and speak at the same time, giving his speech to his deaf mother Robyn.
Just a few years ago, he would have been hesitant to give this speech in sign language in front of friends and teammates. Rayne, whose parents are deaf, rarely would have shown this different side of his family.
"It meant a lot to her. She really enjoyed it," Brittain said. "It means a lot to her when I do stuff like that because she might think that I'm embarrassed about it or whatever, but I have embraced it now." 
Robyn and Terrell Brittain are both deaf. Their children, Terrilyn and Rayne, were born with the ability to hear, however.
Both of the parents use sign language as a tool in their careers. Terrell is a professor for sign language and deaf culture at the University of Houston. Robyn is a part-time professor who also works at a high school in Baytown.
The Brittains started teaching their children sign language when they were between 6 months and 1 year old. For years, Terrilyn and Rayne often translated for their parents at restaurants, medical appointments and teacher conferences.
"It's been easy now, but it was tough," Rayne said. "If you screw something up, they don't really understand it. Hard to get it down, but it's all good. It's been hard with just communication." 
Rayne concedes that it's not easy to talk to his parents. He has to get their attention in a different way. Over the years, he has become more comfortable using sign language with his parents around his friends.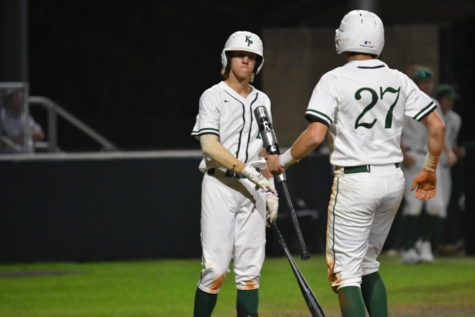 "I used to be very insecure about it," he said. "Now I just stand up for them now. I'm more open about it."
Rayne describes his dad Terrell Brittain as his biggest supporter and inspiration for playing baseball.
At 2 years old, Rayne and his dad Terrell would play baseball outside. Rayne always wanted to throw more and get the ball. He loves hitting. They even played at home in the game room just like they would play baseball outside. All these years later, Terrell still loves that memory.
Through baseball, Rayne and his dad continue to have a strong relationship despite a communication difference.
"It doesn't really affect it, but there's times where it's harder with them being deaf to have the relationship I would want to have," Rayne said. "But overall me and my dad's relationship is still pretty strong."
His dad plays for a co-ed softball team composed of deaf and hearing-abled.
Terrell Brittain wants for his son what he couldn't have, a chance to play at the next level in college.
The elder Brittain sees his son's talent and appreciates how Rayne knows what to do on the field. Terrell Brittain is adamant that Rayne is better than he was at the same age.
"My dream is that Rayne plays college ball like I wanted to," he says. "Unfortunately they did not allow me to play because I am deaf and (they thought) I can't communicate. Once Rayne plays college ball, that will make me feel satisfied and more proud. I can move on and forget what happened in the past."