New coach works to improve team unity, build successful culture
The volleyball team starts its district play in two weeks.
Coach Sarah Stafford's first experience in coaching was during her senior year of high school. She was put in charge of the "volley tots" for the Thunder Volleyball Club. She loved working with the 6 year olds and she loved coaching. 
She decided to stick with coaching and is now in her first year as a varsity coach. Her primary focus has been creating unity. She said she wants the players to care more about each other and less about who is older and who is younger.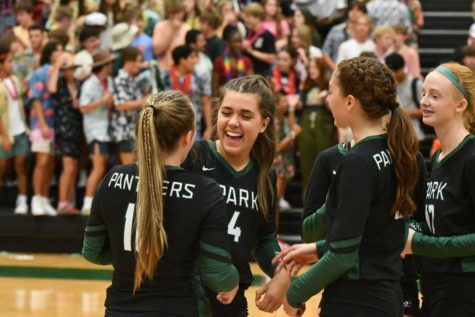 "I want to make sure we are creating a culture that is supportive and loving so that the program continues that for years to come," she said. "I want them all to genuinely enjoy the game and not deal with any kind of drama."
With 37 girls in the program, Stafford has scheduled a lot of combined workouts so all levels are practicing together or doing conditioning together. 
"I think this group of seniors is going to do a really good job in creating those bonds and I'm excited," Stafford said. 
Two of the leaders Stafford relies on are Kynzie Wallace and Avery Guevara. 
"Kynzie is more of a silent leader but has a lot of good things to say," Stafford said. "I think the girls really look up to her in the leadership role. Avery Guevara does a really good job at keeping everyone positive, and she leads by example. She's always really, really hard working. She does a great job on and off the court, even in conditioning. So I think those two are really good leaders."
Guevara, who started playing volleyball in 7th grade, is an outside hitter. 
"My mom is the type of mom to make me try out for every sport in middle school," Guevara said, "and I just ended up liking volleyball so I stuck with that.
"Everything's just so much more fun together and it feels like you could actually really matter on the team."
Wallace, who is a setter, is involved in volleyball, club volleyball, 4H and FFA. She started playing volleyball in third grade. 
"I'm a really competitive person, so it gives me a chance to be a part of the team and also get that competitiveness," she said.
Stafford said she also sees Navy Omenson emerging as a leader and key player. She is strictly a back row player, known as a libero. Stafford said her help on defense will be key as the team adjusts to a new district. 
Early on in preseason, Stafford is looking for the team to improve communication, have less unnecessary diving and improve their serves. In a tough preseason, the team is 6-20. Their first district match is against Nacogdoches on Sept. 23.  
"You need to have dedication," Guevara said. "We all want the same thing and we all want to win, but we need to have just determination and discipline to get that done." 
Stafford said she expects her volleyball team to end up going head to head with Porter and have good competition with Huntsville and Lufkin this season. She believes they have a really good chance at finishing high in the district. They finished second in districts last year before losing in the first round of the playoffs.
"We saw Lufkin at (a preseason) tournament," Wallace said. "We were actually really surprised by them. So I think them and Porter will actually be pretty big competition."
Wallace is looking forward to district play beginning with Stafford leading the program.
"I really like Coach Stafford's coaching so far," Wallace said. "She wants the seniors to step up and she wants us to focus on certain things. We went back to the basics and we focused on certain things. I think she's really just trying to nitpick stuff so we can be successful."
Stafford said she sees her volleyball girls as hard working and determined to make themselves better. 
"Their strengths are just hard working grit," Stafford said, "just all out being scrappy."