Trailer becomes key addition for band
The band was reaching the end of their rehearsal on Sept. 13 when a giant truck with the words "Kingwood Park Panther Band" written on the side came out of nowhere. The band broke their form and instantly started cheering and shouting.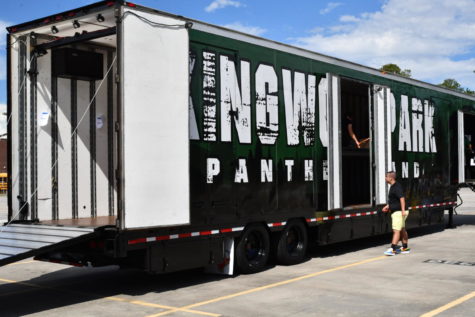 "I didn't even know we were getting [the trailer] until after I got hired and literally got a phone call — like 'Oh, by the way, like this is coming in,'" band director Bre Osbourn said.
The $60,400 trailer includes two floors for the props and instruments as well as LED lights inside.
Around competition season last year, the band boosters saw a need for a trailer when people were hurrying to get their instruments and props unloaded. They started planning for it after that. Humble ISD athletic director Troy Kite worked with the district to help finance the new addition.
"It's just a very effective way to transport equipment," Osbourn said. "It saves money because then you're not having to have multiple trucks, multiple drivers, multiple tanks of gas for things. So that ultimately saves you money there. It's a very nice, big, pretty face for the program."
As well as being a face for the band, it also makes transporting everything a lot quicker and more efficient for the students.
In the past the load crew had to put all of the equipment on a bus for everything. Now everyone puts their own stuff on it in a quicker, more efficient way.
"My favorite part is how easy people can just go in, go out and there can be no traffic," load crew captain Jace Rodriguez said, "and how everything is designed for everyone to just go through it quickly. There's been no one ever having trouble putting up their instruments."
The band debuted the trailer at the homecoming game on Sept. 16. They also carried the arch that was featured during halftime in the trailer.
According to Osbourn, the band works just as hard as athletics, but still has more to do.
"We work hard and put in the same hours as athletics and all the other programs, but we have to drag around the most stuff," Osbourn said. "You have electronics and you have our instruments and you have props and you have flags and just all the other stuff. We have water coolers, ponchos, uniforms, everything. So that needs to be carried places and it needs to be done safely and efficiently."
With so many changes since their new director took over, Osbourn said she is proud of all the band has accomplished with her little time here. They learned new technique and kept an open mind through it.
"I know a lot of it's new and it's different; but the students so far are very open minded and they'll try to grab a hold of all the new stuff, even if it's something uncomfortable because [they've]d never done it before," Osbourn said. "And that's really cool. That's not the case in a lot of places."