Classroom provides chaotic comfort
Various tables, stools and bouncy chairs are situated around the classroom. Toys and fidgets are within reach of every student. No matter what is on the agenda in Abby Wyllie's English classes, students can be spotted building Legos, stretching worms and even pedaling a bicycle.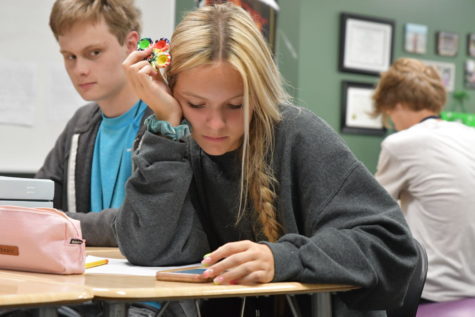 "I think what we've learned from COVID is that the way things have always been done isn't necessarily the best way," said Wyllie. "The working world has changed in a lot of ways and people need the ability to move and to be active in some way, shape or form."
From infinity cubes to yoga balls and an under-the-table bike, Wyllie supplies her classroom with a variety of fidget toys.
Two small boxes filled with toys are placed at the front of the class where students can grab as they walk in and then return when leaving.
Junior Avery Richards, who has ADHD, said the classroom fidgets help them focus better in class.
"I like how she'll let us stand up and walk around, and I also like the layout of the classroom," said Richards.
Wyllie does what she can to keep her class upbeat and give her students a chance to move around. One of the reasons Wyllie chose to provide this freedom in her class is that she has ADHD herself and dealt with uncomfortably long days in high school.
"I feel like every classroom was just chairs in rows," Wyllie said. "There wasn't much interaction. You just had to sit and get talked at all day long."
"
I think what we've learned from COVID is that the way things have always been done isn't necessarily the best way."
— Abby Wyllie, English teacher
Recent studies show that 6.1 million students in the US are diagnosed with ADHD. While most classrooms don't comply with these students' needs, Wyllie's classroom does. To make sure everyone is comfortable, Wyllie tries to put herself in a student's perspective to see if she would be miserable in her own class. She said making adjustments to rooms for students with ADHD is key.
"I think it's important to realize that not every student is the same, not every student is going to learn the way that you did, and that you have to adjust and adapt based on situation and students that are in your room because they're not cookie cutters, they're all individuals," said Wyllie.
While Wyllie believes teachers have an important role in providing an efficient learning environment, students must also keep themselves accountable.
"A lot of students are like 'oh well, I'm ADHD so that's why I can't do x, y and z' and I think at times it becomes an excuse when really, it should be their superpower," Wyllie said.