Forensic science offers daily mysteries to true-crime lovers
Exa Nix, Staff Writer
October 25, 2022
With almost every seat in each of her class periods filled, forensic science teacher Tonya Johnston offers an interactive class. Students learn about different jobs available in the forensics field as well as the science behind solving cases.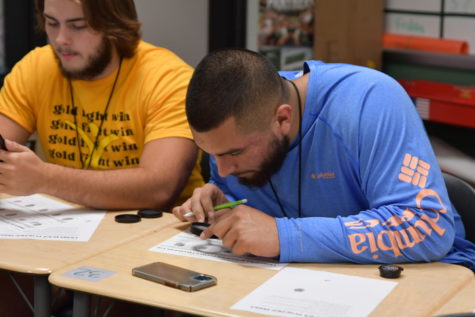 "You will get the math part as far as the formulas you use for blood spatter trajectory," said Johnston. "You also get the biology part of it – how they analyze DNA and what they can do with dried blood."
Even when not doing projects, class remains engaging. On Fridays, students get to watch shows like Forensic Files to practice analyzing evidence and crime scenes. Daily work includes case files and notes.
Students also take part in multiple projects that help them learn about the world of forensics, including a dead hog decomposition lab. As a dead hog decomposes in a cage near the back parking lot, students study the states of decay and how these observations are used to determine the time of death. Most recently, students get to learn about how different cultures treat their dead. 
"I love that we get to dissect crime scenes and solve them," said junior Taylor Mattingly.
During COVID, most projects were put on hold. Johnston still did her best to keep class interesting. She even had her husband pose as the victim in crime scene photos. This year, Johnston looks forward to bringing back the blood splatter tent. This project allows for a better understanding of crime scenes and the behavior of blood. 
She loves the lessons she gets to teach, and she hopes her students carry them with them beyond the final test.
"I like to think that maybe one day I might save someone's life," Johnston said. "Like they are maybe more careful or maybe their senses are a little heightened."