State championship run fulfills sports dream
Allie Jorgensen was part of the cross country team that placed 13th at the 5A State Cross Country Championships this fall.
I was overjoyed, smiling so big my face hurt as we walked through the halls for the cross country state send off. The entire girls cross country team matched in our state jackets, and bittersweet tears rolled down my face as I hugged my teammates and my mom. It was a surreal experience finally making it to state and I couldn't be more overjoyed going with my team.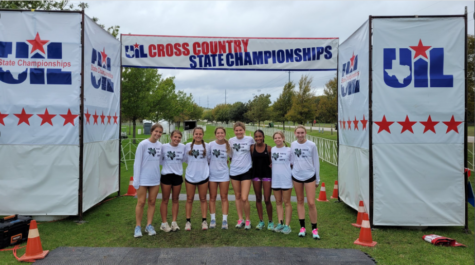 I mentally prepared myself as we drove down to Old Settlers Park in Round Rock for the UIL 5A Texas Cross Country Championship meet. Along the way, we blasted music and enjoyed each other's company. 
We made our annual stop at Buc-cees, and after three and a half long hours finally reached the State course. I couldn't believe I was really there, peering up at the State finish line. I imagined myself crossing through it, completely exhausted like I knew I would be the very next day. 
The first day we explored the course, getting a bit turned around and going the opposite way and painfully going up the hills; but we made the best out of it, running together. We spent that night bonding together, going out for dinner, and making fun of coach Cody Cook – laughing so hard our stomachs hurt. 
Saturday finally came and excitement rumbled in my veins. It was race day.
Rolling into the park, the course appeared in front of us. People were already crowded around the starting line, excited to see the runners race. 
After warming up and feeling cool in our matching jackets and state bibs, we joined the other teams at the starting line. We hyped each other up, laughing together and taking it all in. All my nerves disappeared when upbeat songs started to play, and I remembered I had so many people there supporting me.
As a cross country family, we huddled together at the starting line. I felt a renewed sense of strength and confidence in having my team there with me. Coach Cook gave us a pep talk, reminding us that we worked really hard for this and to put everything out on the course. As he says before every race, we needed to "finish on empty;" and to the seniors, as our last cross country race, he said we needed to bring back the legacy. We were going to start a new era of success for Kingwood Park. 
I thought positively, stepping onto the starting line. The gun went off and the whole world fell silent. I hit the ground running like I never had before, adrenaline rushing through my whole body. With grit, determination and focus, I raced hard.
Each second felt like minutes, and every ounce of my body throbbed. Parents and families cheered us on and coaches screamed at us to get up there, to make it hurt, to get to that extra point. The world started to blur around me and my whole body was screaming at me to stop but I pushed through the pain. The race dragged on and I strained to make it up the hills. I struggled to find the motivation to keep going, but when I heard my mom and dad screaming at me to keep pushing and giving me encouragement, I found a new sense of strength. I turned my brain off. 
I heard someone say, "You only have three minutes left, give it all you got." I raced with everything I had left even though my whole body ached and all my bones trembled. As I crossed the finish line, I heard them announce "Melissa Flores and Allie Jorgensen from Kingwood Park!" 
My knees buckled and I strained to stand up straight, side stepping with blurry vision. Athletic trainers slowly helped me to their tent as I fought passing out. Slowly I regained my breath and found the strength to stand again. My parents and twin sister helped me walk back to where my team was huddled. With the little energy I had left, I hugged my family and each of my teammates. 
With Cook and assistant coach Kimber Watson, we all huddled together for our last team huddle. Tears filled our eyes as we realized this was the end of our season and as a senior, I wouldn't have this experience ever again. We truly are a family. I was so proud of my teammates and how far we had come this year. I am so thankful to be on such a supportive, loving team, with all of my best friends.
Even when we were at the Region course and realized we were one of the top 4 schools to advance to State, I couldn't have been happier. I was quickly engulfed by my teammates and I was overjoyed. All the hard work finally paid off and we brought back the cross country legacy.
After all my years of running, I truly learned what "how hard can I push it" meant. I mentally pushed past my limits further than I ever have before. Seizing the opportunity to compete at the State Championships made me realize that dedication and hard work really do pay off.