Girls conquer course to qualify for State
The girls cross country team faced some stiff competition at regionals Tuesday. With last-minute changes to the course and the best competition they've had all season, the girls took fourth place and secured a spot in the UIL 5A State Cross Country Championships.
"[The team showed] tremendous grit," coach Cody Cook said. "In my 15 years, this was the gutsiest performance I've ever seen out of a group of girls."
The girls edged out Frisco Reedy by just four points to secure the fourth and final spot at State from Region II. It is the team's first trip to the State Meet since 2013. Just a year ago, they finished eighth at Regionals. 
"I waited so long for this," senior Ray Hughes said. "It's so amazing knowing that I finally made it. We're all going as a family because that's kind of what we are." 
The runners leaned on each other all day as they faced one challenge after another. 
Rain the day before caused race organizers to reevaluate the course. The morning of the race, the course was changed to avoid some areas where the mud was too much for the runners to get through. The girls ended up running three times around a one-mile loop.
Once it was announced that the course was changed, there were mixed feelings. A positive was that the team often practiced on one mile loops; however, the sudden change still added extra stress. Cook had the girls take off their watches, so they would focus more on passing as many runners as they could instead of worrying about individual times.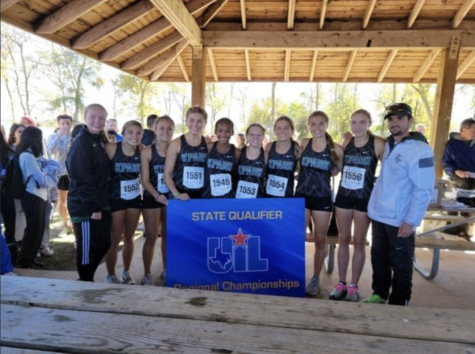 "Before the race, I told them to just calm down, look at each other and to realize that we're racing for each other," Cook said. "We're racing for those seniors and we were racing for tomorrow. And that was our goal – to be able to have just another week together." 
They ran the race with determination and worked hard despite all the changes, which included almost an extra half mile being added to the race due to the course being redesigned at the last minute.
"The three one-mile loops ended up being over three and a half miles, so it was a real shock," junior Isabel Monks said. "Because we didn't have our watches and we had no clue what we did, it was just a strange and hard course.
"In my head the entire time I was thinking, 'I need to do this for the seniors. I need to do this for my team.' It's a really mental race and you have to really think and remember who you're doing it for."
Overall the team accomplished what they set out to do. Junior Elina Bailey finished in seventh place and is the lone teammate to be making a second-consecutive appearance at the State Meet. Sophomore Lucy Foltz took 9th and Hughes finished 21st. In a race with 150 competitors, Garcia (41), junior Melissa Flores-Tinnacher (57) and Monks (60) rounded out the final spots for the Panthers.
"
[The team showed] tremendous grit. In my 15 years, this was the gutsiest performance I've ever seen out of a group of girls."
— coach Cody Cook
After everyone finished, the team waited 30 minutes until all team scores were calculated. Each school can have seven runners compete, with the top five counting toward their final score. If there is a tie, the person in sixth place is the tiebreaker. 
Finally, at the award ceremony the girls were announced as finishing fourth. A celebration erupted. 
"[There were] lots of tears," Cook said. "It was just very emotional to see the relief. They just did that. They knew everything that we planned for, we've been building for two years now – we finally achieved it and did it. It felt like just a huge, huge release of emotion."
Now the team will start preparing for state. Cook doesn't plan on making any major changes. He simply cannot wait to share the state experience with this special group. 
"You cannot do what they did," Cook said, "without truly caring and believing in each other because they really did run for each other."
** Shelby Townsend and Taylor Nethery contributed to this story.