Freshman football provides learning curve
For the past three months, the freshmen football players faced the sudden adjustment of going from middle school football to high school football.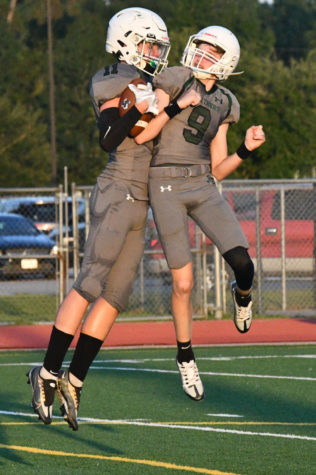 "The season has been pretty fun, there are a lot of new things compared to middle school but I love it," said Cooper Robinson, a safety and wide receiver for the freshman A team. 
Freshman head coach Scott Elliott started his first year here at Kingwood Park coaching both freshmen teams. The A team finished off the season with a 6-4 record. 
"I think Cooper Wolocko has had a good year at running back," Elliott said. "I think Dane Solomon and Luke Elliott have had good years at the receiver positions, and Bryce Gerbasich has done a great job at being quarterback." 
Throughout the season, Elliott worked with the A and B teams on maturing and getting used to the new style of coaching and discipline. 
"(We have to) remember that they are still growing up," Elliott said. "They have to be more disciplined in high school and they have to play as a team, not individuals." 
Going into high school, freshmen football players had to find a balance between the time commitment required for football and the workload from their classes. 
"I think that (the hardest adjustment for the freshmen is) that they have to pass to play, and I try to push As and Bs more than just passing," Elliott said.  
While football season has ended and offseason began, freshmen Cooper Robinson said he is working toward his new goal, which is to earn a spot on varsity by his sophomore or junior year.
Coach Elliott's short-term goal for all of his players is to get faster and stronger during the offseason. Despite the challenges and adjustments, Elliott said coaching freshmen comes with rewards as well. 
"You have to have patience, but it is rewarding because you get to see how the kids get better throughout the year," Elliott said.