Chaves brothers share mom's smile, love for Brazil
Senior Erick Chaves smiles at the memory of his mom. It's the smile he knows he was lucky enough to inherit.
"Her smile is the best, just something I can't stop thinking about, every time I look in the mirror I'm like, 'Wow, that looks like my mom,'" Erick said.
Erick was a freshman when his mom, Andressa Miller, passed away on March 17, 2020, at the age of 37. Health issues hit her suddenly and she spent seven weeks unresponsive in the hospital prior to her passing. The family got very few answers on what happened, but Erick and his stepdad Bob Miller said they have always wondered if it was an early case of COVID.
For Andressa's husband and her kids Erick, senior Nico Chaves and Mary Miller, days without her were hard. Erick did all that he could to support his siblings and his stepdad when she passed.
"[Erick] just reached out, he would just say 'how are you doing, are you OK?'" Nico said. "He asked me to come home sometimes too. I really appreciated that, to see somebody that actually still cares, so did my dad, and they gave me my mom's ashes so that was really nice of them."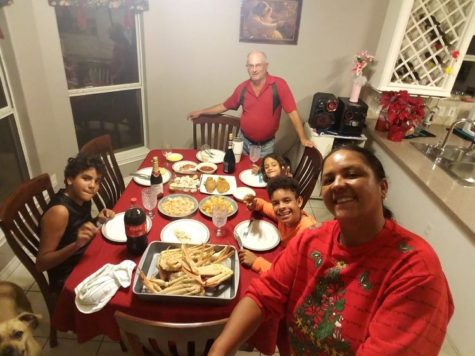 Nico and Erick have always been close to each other. They grew up in Brazil with their mom until she married Miller in 2009. They all moved to America in 2012. Erick and Nico often dream of going back to Brazil to see their extended family, especially their grandma. Brazil also holds a special place in their hearts as it reminds them of their mom.
"If I think of Brazil, I'll think of my mom," Erick said.
Andressa was known for lighting up a room and making people feel welcomed. She struggled making American friends in the early parts of their arrival, but it wasn't very long before she became loved by many.
"She couldn't pass anybody without giving them a hug," Miller said. "She'd come into a room and you knew she was there, she lived hard, loved hard, she's a beautiful lady, beautiful person."
Andressa's caring personality and love continues through Erick and his family. Erick still gets sad about his mom but he knows that she would want him to be happy and share that positivity with others.
"Just think of the positives you had, I'm happy I got to spend time with her, I'm happy that my family got to spend time with her, I'm happy that she affected other people," Erick said.