Watsons find fun in being together
With Kimber Watson returning to campus as a teacher, three Watsons were reunited.
For teacher and coach Jason Watson, the best part about this year is having two of his daughters on campus with him. Kimber Watson joined the staff as a math teacher and coach, while Allie is currently a senior.
Jason Watson said the highlight was taking a picture with both girls before the first day of school.
"It's been fantastic, it's been a dream," he said. "It's just so cool as they come through school to watch them grow and get to see them everyday and have them come by and say, 'Hi, dad! Love you.' It's been great."
Kimber Watson graduated in the spring of 2022 and teaches geometry and is an assistant coach for cross country and track. In high school she was very involved with multiple organizations but the majority of her time was spent running. As a senior, it was biology teacher Kristen Lynam and CTE teacher Tonya Smith, who influenced her decision to become a teacher and a coach.
When her final semester of college was nearing and Kimber Watson was looking for jobs, she was excited to find Kingwood Park had an opening. An interview was set up, and her excitement rose when they found she got the job.
"I went to school here so that was part of my decision but it has a great culture and core values that I like and the staff is very welcoming," Kimber Watson said. "It's like a family here."
Other than having to get used to calling former teachers by their first names throughout the day, Kimber Watson loves watching students be in the place she once was and offer help and advice to them.
Ultimately, she hopes to keep teaching and eventually become a head coach.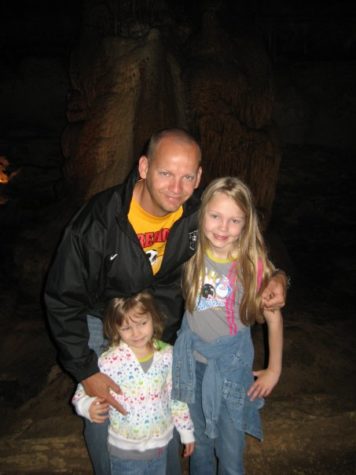 "I just love getting an experience to just make a small change in someone else's life and I love seeing students light up when they learn something new," Kimber Watson said. "Or if it's the coaching side, when I have an athlete get a [personal record] – just being there for those little moments."
Being near family is at the top of her lists of what makes Kingwood Park special though.
"I love working near my family," Kimber Watson said. "My sister comes and visits me everyday before third period and we talk before she goes into her pre-calculus class. Me and my dad high five each other in the hall everyday."
Allie Watson stays busy with dive and has spent the last four years in her dad's audio-visual production classroom. Now that she has Kimber at the school too, she has one more person that she can go to when she needs something. She loves being able to see them every day and is going to miss them when she's at college.
"I love my family and I have a really good time with them," Allie Watson said. "So even if I am close to home [during college], I will miss just not being able to talk with them every day and saying hi to them during passing periods. I really like that. This morning, I even walked with my dad to class. I'm going to miss stuff like that."