Amazing Amos
Freshman Elena Amos broke two school records in the first two months of the season.
Even when freshman Elena Amos first started swimming at age 9, she noticed she was just a little different. Her grandma signed her up for summer swim in the Bear Branch community right after Elena moved back to the U.S. from El Salvador.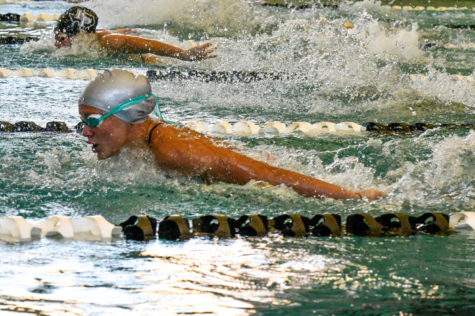 Her grandma saw potential and signed her up for Blue Tide Aquatics swim team without even asking Amos.
"Back when she was 9, she was eager to learn," said varsity swim coach John Dissinger, who was Amos' first club swim coach at Blue Tide.
She broke records in her division almost immediately and moved up fairly quickly due to her speed.
Little has changed now that she is in high school. In the first two months of the season, Amos broke two school records, but her hopes for swimming go way farther than that. Her goal is to represent El Salvador at the 2024 or 2028 Olympics.
"I feel very lucky to be able to say I might be able to swim for [El Salvador]," Amos said.
Amos, who was born in the United States, spent part of her childhood in El Salvador with her mom, who was waiting for a visa. What was expected to take five years, ended up taking nine.
Amos said that living in El Salvador was hard.
"I think of where I lived and how much me and my mom struggled there," said Amos. "We're very lucky to be here now."
Growing up, Amos was unable to see her dad for long periods of time.
"Sometimes I get jealous of my [younger] sister because she got both of my parents and my grandparents her whole life," Amos said.
When Amos and her mother moved back to the states, her grandma signed her up for swimming right away.
"I didn't want to do it at first," Amos said.
It wasn't until she got in the water that she truly enjoyed the sport. Now, in just her first few months of high school swimming, she holds the school record for the 50 free (23.83) and the 100 fly (56.46).
Amos spends 25 ½ hours swimming per week.
"She has a little fire in her belly," Dissinger said. "She's moving fast all the time. It's been fun watching her stay consistent."
Amos wants success for herself and has set high goals.
"When she's determined, she is very strong," said Tara Bailey, Amos' Blue Tide coach and Kingwood Park's instructional coach for science. "In general, Elena works hard. She wants what is best for her teammates. She genuinely loves the sport."
Amos said her biggest supporters are her dad and grandmother.
"My dad is always there when I need him," said Amos. "I can talk to them about anything I'm feeling."
For now, Amos' focus is to do well for the school team.
"I think I really just want to have a good team and eventually win State if I can," she said. "Swimming is hard and painful; but if you have the right coach and teammates, it's worth it."