Emma Yeager takes the cake with new scoring record
When senior Emma Yeager saw the bright green soccer field cake sitting on her kitchen table, she immediately turned to her mom Tuesday afternoon.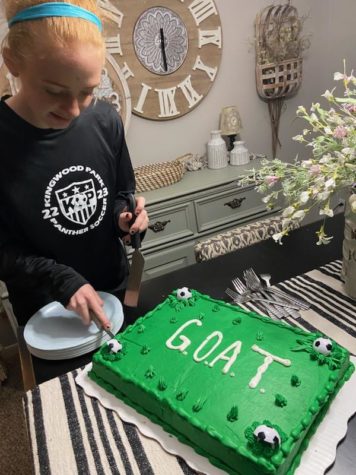 "It's going to be real awkward if I don't score tonight," Emma told her mom, Kim Yeager. "What are we doing with it?"
Her mom had a ready answer although it was clear she had confidence in Emma's ability to break a tie atop the girls soccer team's all-time scoring list.
"I guess we freeze it," Kim responded with a laugh.
Emma validated her mom's confidence. 
A few hours later, Emma was cutting the chocolate cake with the white letters "G.O.A.T." after breaking the team's career scoring record. 
She scored two goals in a 5-0 win over Lufkin on Tuesday to finish the night with 108 career goals.
Her first goal of the night came off a cross from junior Victoria Jaimes. Yeager beat the goalkeeper as she drove it into the right corner of the net from just outside the 6-yard box.
The goal gave the Panthers a 1-0 lead in the 16th minute and it broke Emma's tie for the record with Vanessa Valadez, who scored 106 goals in her career from 2011-2014.
With only one goal needed for Emma to break the school record, Kim pre-ordered the cake from Walmart in preparation for the game.
"My mother has so much faith in me," Emma said. 
Kim gave her daughter the same pep talk before the past three games.
"This is the one," Kim would tell the senior forward. "This game is the game."
Setting a new school mark was a four-year process.
Breaking a school record was not on Emma's mind entering her first season as a freshman. She was more concerned about whether she was going to make the varsity team in any capacity, considering the Panthers had won the previous two Region 3 titles to make the program's first two trips to the state semifinals.
"Our program had just come off of state runs," Emma said. "I was so nervous." 
She shouldn't have worried. She started on the varsity team and scored 36 goals in her freshman season, which ended early due to COVID-19. 
After the season was cut short, her mom helped her realize the school's single season scoring record was in her grasp. 
Then as a sophomore she broke the Kingwood Park girls' single-season scoring record with 44 goals. Unfortunately for her and the Panthers, she hyperextended her knee and dislocated it seconds after scoring a goal during round one of the playoffs that season. 
"She's overcome some adversity," girls soccer head coach Jess White said. "Elite athletes like herself have to have a phenomenal work ethic, desire – a lot of intangibles."
She missed the rest of that postseason as the Panthers were eliminated in the second round.

Emma continued to battle her injury as a junior. She underwent surgery and rehab to help the Panthers reach the Region 3 semifinals. 
"I'm so much more confident than I was last season," said Emma, who signed to play at Missouri State next year. "I've stopped wearing my brace, and I did a lot of training over the summer to get there. I started focusing more on my confidence and my love for the game and working myself back up where I was sophomore year before I got injured."
Emma Yeager has made it look easy since she made her debut as a freshman. In many ways it was, but she also overcame a lot of pain along the way. 
"Just the physical and psychological toll of coming back through her junior year, she's come back sharper, stronger physically and mentally," White said. "Going from what was probably one of our best teams in 2020 as a freshman to being a leader on a very, very good team. We'll see how the year goes."