By the end of her freshman year, Krisslyn Boyles was tired of having the stress of three sports practices a day.
She was burnt out.
Krissyln had just spent the year playing JV volleyball, varsity soccer and varsity track. She also played club volleyball.
"I think it was too much on her body," Krisslyn's mom Lori Boyles said.
It wasn't fun anymore either. It started to feel like work for Krisslyn, who is now a junior captain on the volleyball team.
"In the last two years for club volleyball, my coaches weren't the greatest," Krisslyn said. "I started dreading going to practice."
High school soccer games were Tuesday and Fridays. Club volleyball practices were Tuesdays and Thursdays, which meant she missed half of her volleyball team's practices each week.
"I realized I can't do club volleyball if I am going to still do school soccer," Krisslyn said. "I was like, well, I'm not stopping school soccer. I don't even enjoy practicing (club volleyball) anymore. It was really sad because I really like volleyball."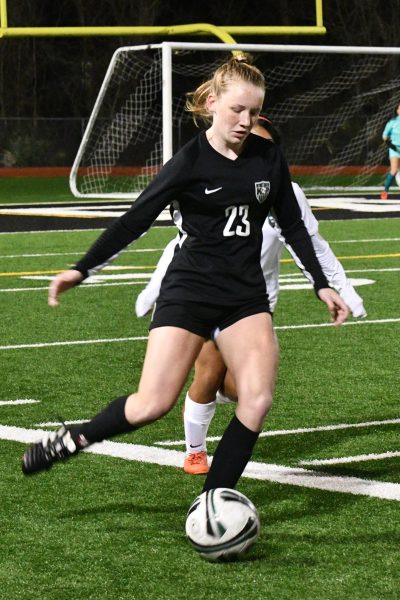 By sophomore year Krisslyn wanted to take a break from club volleyball to focus on soccer. She didn't stop playing volleyball all together though. She attended multiple volleyball clinics throughout the year.
Then her mother encouraged her to attend some beach volleyball clinics to help her stay in shape. After a few beach volleyball clinics, Krisslyn was sold.
"I was like wow I actually really like beach volleyball," she said.
In November 2022, Krisslyn found a competitive beach volleyball team in the area and decided to sign up. She instantly loved the coaches and the atmosphere at practices.
"It's a lot more independent because it's two people (teams) and it's just a whole different environment," Krisslyn said.
Krisslyn finished out sophomore year playing both beach volleyball and club soccer outside of school. She also competed in varsity soccer and varsity volleyball. She stepped away from track.
Heading into her junior season this year, Krisslyn was excited to play on the varsity volleyball team with her teammates. She also plans to continue with the varsity soccer team.
"She's the best kind of teammate," volleyball coach Tonya Smith said. "She makes the rest of the team better because she encourages and uplifts."
Soccer coach Jess White sees the same traits when Krisslyn is at soccer. He says she is humble, easy going and a great teammate.
In her first two seasons, she has scored eight goals, including the game-winning goal in the first round of the playoffs against Austin Anderson her freshman year.
"Krisslyn is as happy to see her teammates succeed as if it were herself, but she fights every day to get better so she can contribute as much as possible each match," White said. "Her teammates love her and love to see her succeed because of who she is as a person."