Poulin shines in dance with mom's constant support
With her teammates lined up and ready to take the field, Charlee Poulin shouted "Last time, best time!" before the Silver Stars stepped out to perform at the last football game of the season. It was Poulin's final football performance in her four years on the Silver Stars team.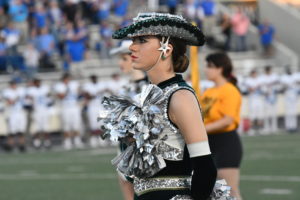 "Dancing has helped me realize who I am as a person and I can't imagine myself doing anything else," Poulin said.
Poulin has always strived to be a leader. She was the major on the Silver Stars team her junior year and became colonel her senior year.
"I wanted to put my leadership skills out there and help the team as much as I can," Poulin said.
Poulin climbed the ranks quickly in Silver Stars, but when she was younger she wasn't even planning on joining the team.
"I originally wanted to be the drum major in the band," Poulin said.
Poulin's older sister was a drum major which inspired her to want to become one too. She played the oboe in 6th and 7th grade but chose dance as her passion through high school.
Poulin started dancing 12 years ago at Stacey's Dance Studio when she was 6 years old, now Poulin pays it forward and helps teach little kids there as well.
"We actually started dance at Stacey's so she and her two preschool best friends would see each other regularly," her mom Leslie Poulin said.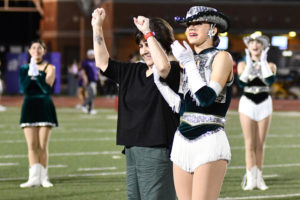 Dance has taken a big portion of Poulin and her mom's life. They're able to spend a lot of time with each other because of it.
"We travel a lot for dance," Leslie Poulin said. "We know each other very well."
Poulin and her mom have always had a great relationship.
"We are close enough to understand each other's needs," Leslie Poulin said. "It gets better every year."
This year, when Poulin was crowned homecoming queen she had the announcer introducing her read a message  thanking her mom for everything she had done for her. Leslie Poulin's reaction was priceless.
"What an amazing moment," Leslie Poulin said. "I was so surprised by this. One of the best moments I have had. I will cherish that forever. Totally unexpected." 
To Poulin, this was something very special to her that she wanted her mom to know.
"I wanted her to know how important it was for her to be there standing next to me and how important she is to me," Poulin said.