Cheer caps off strong return to competition
The cheer competition season came to an end at the national competition in Disney World last weekend. It capped off a strong season that included a 15th place finish at the state competition in Ft. Worth.
At state, the team placed ninth in the cheer category, 10th in the band dance category, and 11th in the fight song category. Overall, they placed 15th out of 68 teams.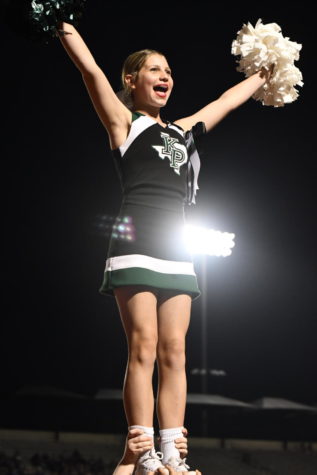 The team did pretty well, especially considering so few were upperclassmen.
"This is definitely like a growing year," senior co-captain Zoie Bowman said. "There's a lot of underclassmen on the team. Out of like the 21 of us I think that competed, 13 were either freshmen or sophomores. So definitely by their senior year, we'll be doing good."
Bowman said she enjoyed the family aspect of the team. She was motivated by the rest of the team, even on the really long days of competitions.
"We'd get there at like 9 a.m. and not leave until like 10 p.m., so it's just like keeping up like energy throughout the day because you get tired," Bowman said.
One of the biggest obstacles for the cheer team was the fact they had not been able to compete for the past two years.
"Our finals performance at state could have definitely been better," coach Matison Burke said. "Had we done what we did in prelims, I think our overall score would have been a little bit better. We talked about those things, just basically being more mentally tough, because it was a really long day. Those are some things that we're working on – pushing through the tired, and pushing through the long and exhausting times to give it their all at the end when it really matters most."
While the team didn't get the scores they hoped for at nationals, Burke was so proud of how they finished and competed throughout the season. She will never forget the competitions or the team bonding in between events.
"We have some traditions that we do the night before we compete," Burke said. "Those moments are really special and those things are what stand out to me – those moments of just being together and it being more about our team and our relationships rather than the competition itself."