Young baseball team looks to make big strides
The baseball team is trying to find their footing again after a great season last school year. Baseball coach Bruce Cox graduated 15 seniors last year and now he, along with the returning team members, is adjusting to a sophomore-heavy team.
"Pretty much all of those seniors played and contributed and we only returned one guy off of that team," Cox said. "This year, they have to learn how to rise up to varsity baseball level."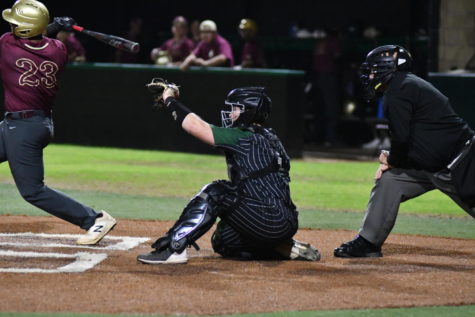 This season started with scrimmage games. For a lot of those on the team, the scrimmage games were their first true varsity baseball experience. Their first official games start today in the Humble ISD Baseball tournament.
"There's been a lot of positives in scrimmages and there's also been a lot of negatives but the improvement is there for sure," Cox said. 
As the team works toward district games, Cox and the varsity captains are noticing potential in the younger players. They are driven with the desire to win. Team captain Liam Stonestreet said he is looking forward to playing with the group of younger kids because of their determination. 
"They're very optimistic and that's what I like," Stonestreet said. "I can tell it's gonna be a fun year."
Cox hopes to see improvement throughout the whole team as the season moves forward. The team is part of district 20-5A and some of their toughest competitors will be Lake Creek, Montgomery and Porter.
"It's one of the best districts in Texas and it's going to be really hard and really challenging but we'll get there," Cox said.
The three team captains – Stonestreet, junior Marshall Burke and senior Logan Mahaffey – have already had to take on a lot of responsibilities. They're in charge of keeping the team motivated and ready to work. Because a majority of the players are so young, the captains have to teach them what is expected from the team.
"Me and the two other captains, we have to bring a lot of energy to practice," Burke said. "We have to be an example of how practice should be."
Even though the team still has a lot to work towards, they can already tell it's going to be a great year. The team is tight-knit and with hard work, they say they will be able to achieve anything they set their minds to. 
"I think we're going to see a lot of growth throughout the season and that's always fun as a coach to watch your team mature," said Cox. "We'll be playing meaningful baseball in late April, no doubt."