'I'm a fighter'
Luc Wehby could no longer handle the pounding in his head. It had been throbbing since the night before. Now, as he sat in his sixth-grade World Cultures class, he finally gave in and asked to go to the nurse. 
On his way, he tried to stop at the water fountain but fell to his knees. The pain was excruciating.
Kingwood Middle School nurse Kimberly Poole just happened to be in the hall on her way to get another student that day – May 11, 2017. She spotted Luc moments after he collapsed and helped him to her clinic where she performed her normal assessment. 
She was shocked.
"It seemed to be stroke-like symptoms,"  Poole said, "but he was a child, so it seemed so unreal." Poole started shouting: "Call 911, call 911!" 
That was the last thing Luc heard before he lost consciousness.
* * * 
When Luc was young, he loved playing baseball. At one point, he wished to play for the Astros. The Wehby family was always at sporting events for their three kids.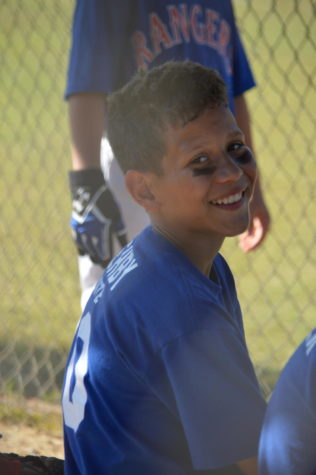 "We consider our house like a zoo, or just crazy all the time," said Mia Wehby, Luc's older sister and 2020 Kingwood Park graduate. "Something is always going on. It's a lot of fun."
Mia, who currently plays soccer at the University of Arkansas, used to constantly play sports with Luc. 
One time the two were playing soccer in their living room when their mom warned them to stop. They didn't listen. Luc kicked the ball too high, destroying the chandelier. 
The morning Luc collapsed at school, Mia didn't say goodbye to him. He was annoying her, so she said, "Just go to school. Leave." When she heard what happened, those words were the first thing she thought of. 
"I just kept praying and hoping that he was going to be there," Mia said, "so I could talk to him one more time."
* * * 
Luc's mom Jacquie Wehby was downtown at a doctor's appointment when the middle school first called saying Luc had become unresponsive.
She tried to reach her husband while having back and forth calls with Poole's assistant. 
"It was every mother's worst nightmare, getting a call like that," Jacquie Wehby said. "It honestly was my cry out to God to say, 'Don't take his life.' At that point, I felt absolute fear, disbelief, panic."
Poole, a former emergency room nurse, climbed into the ambulance. She rode with Luc to Kingwood Hospital, where he was taken by Life Flight to Children's Memorial Hermann Hospital downtown. 
Luc had suffered a stroke. 
Once he got to Memorial Hermann, doctors had minutes to save his life. They removed the right side of Luc's skull to stop the swelling and try to avoid massive brain damage. 
As the doctors worked, Jacquie Wehby waited alone. 
Her husband was on business in Hawaii. Jacquie's parents were visiting her siblings in Florida. Mia was at Kingwood Park, and the youngest son Kye was at Bear Branch. 
She tried to remember everything about the previous 24 hours.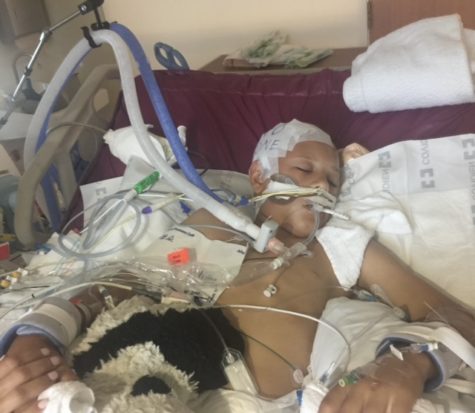 Luc had asked Jacquie what a migraine felt like the night before, but she could not even describe it since she had never had one. She gave him a couple of Advil and had him drink a lot of water. She replayed his sports practices in her mind, wondering if dehydration was the issue.
* * * 
She had no idea at that time Luc had been dealing with what doctors call the ticking time bomb: an arteriovenous malformation (AVM), which develops on a child's brain while in the womb. The bundle of blood vessels ruptured. The aneurysm and pressure led to Luc's stroke.
Doctors placed Luc in a medically induced coma for eight days. They told Jacquie that, even if he made it through the first 48 hours, he might never walk or talk again. 
Jacquie's husband, Kirk Wehby, flew home and joined her at the hospital by midnight.  
They spent every minute with Luc but were not allowed to talk to him. Jacquie was told Luc could hear their voices, but doctors said his brain needed to rest.
* * * 
Doctors quickly determined Luc was paralyzed on his left side, which had been dominant. They continued to run tests on the right side.
On Mother's Day, the doctors decided to run a test asking him to raise his right thumb. It was Luc's third day in the coma. 
As she and her husband watched Luc's hand, Jacquie said a quick prayer. The doctor asked him to raise his thumb three times. All of a sudden, Luc's right hand moved. 
He gave a thumbs up.
* * * 
Mia had a soccer game just two days after Luc's stroke. To keep a sense of normalcy in her life, she went. She and her teammates put tape on their cleats and wrote "Love for Luc" on them.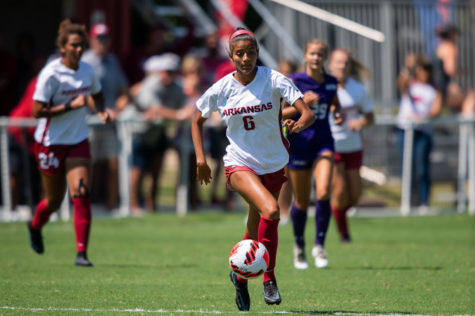 "I can't remember anything about [that game]," Mia said. "But I do remember thinking, when I do play soccer, it's for him."
Mia and Kye missed the last couple weeks of school. They developed a routine: wake up, eat breakfast, get in the car, go visit Luc, come home, go to sleep.
"Those [days] were very hard and emotional," Mia said. "We didn't know if he was going to make it through that next day, or if he was going to make it through the night."
* * * 
Luc spent 52 days in the hospital and mostly just remembers the constant pain. Jacquie and Kirk remained at the hospital all day, every day. Family took care of Mia and Kye, who visited Luc almost daily. 
The Wehbys never knew when Luc would be rushed into another emergency surgery. Each day was a challenge. 
"God helped me through and so did my husband," Jacquie said. "We've been married 24 years and made it this far. We make a good team."
That team expanded while Luc was hospitalized. Family and community members rallied to help the Wehby family. When it was finally announced Luc was returning home June 26, the community showed up to celebrate.
Mia and her friends posted on every social media account they could about Luc's homecoming. They were only given a two-hour warning, but that is all it took.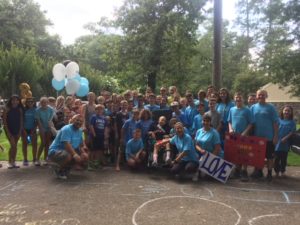 The street was lined with more than 100 family and friends cheering as Luc and his parents turned the corner. They had balloons and signs. Most were dressed in blue "#LoveForLuc" t-shirts. 
Luc had tears streaming down his face. He was overwhelmed. 
"It gives me chills remembering it," Mia said. "I genuinely won't ever forget, because it showed how many people truly loved and cared about Luc and our family."
* * * 
Luc was homebound for all of seventh grade. Instead of playing sports and fishing, he spent his days attending physical therapy, occupational therapy and a little bit of speech therapy. To protect his skull, which was reattached right before he returned home, he had to wear a helmet around the house. He learned how to walk again and met with teachers at home to keep up with school. 
Luc knows what it is like to be completely healthy, and that takes a toll on him.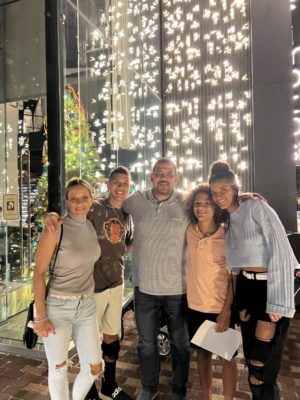 "[There are] certain things we take for granted: tying your shoes, buttoning a shirt, putting on clothes or holding a bowl with two hands so you can eat something," Kirk Wehby said. "Those are all challenges that people don't see. He has to deal with that every day."
A year later, he started to ease his way back to a regular routine. He went to school for two hours a day in eighth grade. In his freshman year at KPARK, he attended school four hours a day.
Then COVID hit and Luc went back to fully virtual for his entire sophomore year. His mom was back at his side, helping him navigate online school once again.
"She brought me to therapy every day, and she never complains," Luc said. "She's my biggest supporter, and she's always there for me."
His older sister is studying to go into the medical field and help other families like her own. His younger brother is playing every seventh grade sport he can, determined to compete as hard as he can in honor of his brother. 
This year, Luc has returned to campus full-time as a junior. 
"To work toward graduation is just one of those things where you go, alright, that's Luc again," his dad said. "He's beating the odds again."
* * * 
Luc is paralyzed on his left side. He can't open and close his fingers on his left hand. He can't run. However, through therapy he regained the ability to walk. Since he can't point and flex his left foot, he wears an ankle and foot orthotic brace to help.
Luc no longer plays baseball or football, but he has picked up golf. 
He saw a girl on ESPN with the same condition playing golf one-handed. Luc asked his parents if he should try it. They jumped at the chance to take him out to the course to practice.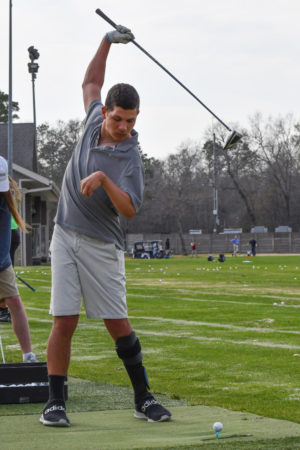 They put him in lessons, and he joined the golf team in August. The process was gradual, but now Luc pushes his bag by himself for all 18 holes and swings entirely with his right arm. His mom is in awe of how hard he can drive the ball off the tee.
"Even if I mess up," he said. "I'm just happy to be out here playing golf."
His smile on the course makes that clear. 
"Luc is always smiling," golf coach Angela Chancellor said. "It helps the team remember that golf is supposed to be fun."
For Luc, life is fun. 
"I love life," Luc said. "I'm thankful that I can be [golfing] because the doctors said that if I survived, I probably wouldn't walk, talk or ever move again. I'm a fighter."
Out on the course with the green stretching out in front of him, he forgets about the struggles of the last five years. 
He forgets he used to dream of being a Major League baseball player. 
He forgets he didn't get a chance to play middle school football. 
He forgets he can no longer run.
All he feels on the course is thankful.