Soccer skills help lead Sterner to Div. I football
As the soccer team prepares for its first-round playoff game against Katy Paetow tonight, senior center back Tony Sterner is soaking up every minute of his  final soccer season.
Even though Sterner has been playing soccer since he was only 3 years old, he discovered he had a skill for kicking a football when he got to high school. Now, he is headed to play Div. I football at the University of Incarnate Word in the fall. 
Sterner has been a varsity kicker since his sophomore year when he was recruited by wide receiver/special teams coach Kyle Grimes. At first, Sterner didn't really want to play football. Once he realized how skilled he was, however, a whole new world opened up for him.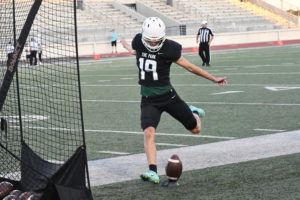 "It was not until after my junior season that I realized how good I was and that I had a chance to play at the next level," Sterner said. 
For two years, Sterner was the district's first team kicker and first team punter. He attended a number of college camps in the past couple of months and dominated them, winning multiple kicking competitions. 
"(The camps were) kind of stressful, but it was a good experience to be able to compete against other talented kickers and see how I compare," he said.
Sterner was labeled as a 5-star kicker and a "hot prospect." He received two Div. I offers to play football – one from the University of Delaware State, and the University of Incarnate Word. 
Sterner said he ultimately chose the University of Incarnate Word in San Antonio, because it has a great coaching staff, a great team, and is also close to home.  
"I'm just excited to keep playing athletics and improve my skills," Sterner said. 
Although Sterner will continue his athletic career playing football, soccer has brought him many special memories. 
Sterner was inspired to play soccer after watching his sister play growing up. Last year, Sterner was a key part of the soccer team's state title run. The team reached the state title game for the first time in 10 years. They fell to Frisco Wakeland, 3-2, and finished with a final record of 31-4-3.
"It was just a great experience," he said. "It was probably the coolest thing I've been a part of. It was really fun."
Although this year's team is a far different team, they did earn another trip to the playoffs. They face Katy Paetow tonight. 
This year's team also has been led by new coach Christian Boehm, who helped lift them to the playoffs despite losing 11 seniors from last year's state runner-up squad.
"(It's been) a great time," Sterner said. "Everybody has really connected well and we've had a lot of fun."