Regional tennis qualifiers enter with top seeds
The varsity tennis team went to the District tournament, played hard and returned with four Regional qualifiers.  
Seniors Marshall Simmons and Syed Hussian placed 1st in boys doubles. Seniors Monica Miller and Alana Aristimuño placed 1st in girls doubles. Both advanced to Regionals on April 13.
"I'm excited to see just how far we can make it," Simmons said.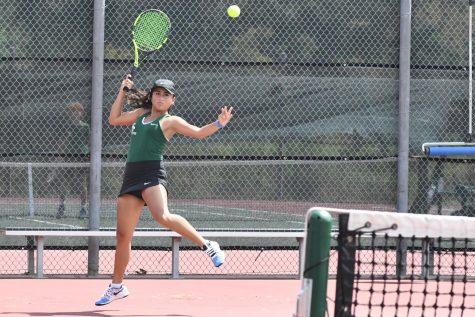 At District, other team members also placed. Pippi Timpanaro and Jim Smoot placed 3rd in mixed doubles and Cameron Goerner placed 4th in girls singles.  
"The kids were great this year, we've had some of the best numbers that we've had in a long time as a team," tennis coach John Macapaz said. 
Overall the team did well and is excited for their teammates to go to Regionals. 
The four players going have been placed as 1st seeds in the bracket, which will give them an easier path to finals.
"I think the conditions are all there for us to be successful and hopefully make it a good run," said Macapaz.  
This tournament will mean a lot to the seniors. Simmons and Hussian have been playing together since freshman year and their goal is to possibly make State. 
For the girls, Miller and Aristimuño fell just short of reaching Regionals last year. Since this is their last season, they were determined to get there this time around. They faced some challenges in the District semi-finals when they lost their first set 0-6, but they fought back and ended up winning the next set and eventually the match. 
Getting to Regionals was a big goal for them and they were able to make it happen.  
"We just didn't want our senior season to end like that," Miller said.
With all the success this season, the tennis team's qualifiers are determined to make their mark at Regionals.  
"If they catch fire like they should and they play to the best of their abilities, who knows how far they'll get," Macapaz said.