Regional Ready
Leah Torres and Kendall Kerr prepare to compete in the Regional Golf Championships on April 20-21.
While practicing for the region golf tournament, sophomore Leah Torres couldn't find her golf ball after teeing off on the second hole at The Golf Club at Margaritaville. She was left with two options as she approached the green on the 106-yard, par 3 – the ball either went straight into the hole or she hit it off the green. 
With a smile on her face, Torres bent down and pulled her ball out of the hole. It was Torres's first hole-in-one.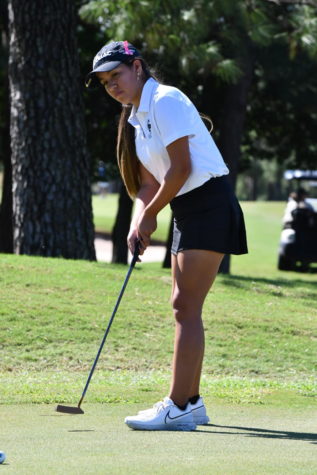 "I feel like it's a good sign of what I am going to do hopefully," Torres said. "Regardless of what happens, one good thing came out of being able to go to region."
Torres and Kendall Kerr were practicing with coach Angela Chancellor at the Margaritaville course near Lake Conroe, where they will compete in the Regional Championships Wednesday and Thursday. 
Torres placed second at the district tournament and Kerr placed seventh, qualifying them both for regionals. Last year, the two competed at regionals when the entire varsity team qualified together.
"It hurt when we didn't get to advance to state from [regionals last year]," Chancellor said. "I was glad they get to go back and try again this time."
Both players agree that the mental aspect is one of the biggest challenges during the game. Torres said part of her success at districts was because of her consistent calm and collected attitude.
"I've been working on not getting ahead of myself and telling myself how the rest of the day is gonna be," Leah said. "Just taking it one hole at a time."
During her senior year, Kerr said she has become more confident in her swing and matured mentally. 
"I can't do anything about the shot that I just hit," Kerr said. "So just make it better."
Torres has also taken to meditating in order to help her nerves. 
"I've just been more calm, which helps my game more than skills wise," Torres said. "I know I can do this stuff, but it's a major mental block whenever you're like 'I need to do this.'"
Torres's main goal for region is to finish better than she performed last year when she took fifth overall. Kerr hopes to make it to state in order to continue her senior season. At regionals, the top three teams advance to state as well as the top three individuals not on the qualifying teams.
"I've been really proud to coach both of them," Chancellor said. "I think Kendall and Leah as a pair have really helped pull the other kids along and keep our team together."