Recent fights lead to new bell schedules, increase in security
With its security team more than tripled, Kingwood Park had a quiet day on Friday.
Rumors on social media and recent fights led to the increased security presence on campus. With about half of the student body absent Friday, classes had between zero to 12 kids in attendance. Some classes played games, some continued class as normal, and a few took tests or administered other major summatives. 
"It is kind of a weird feeling," freshman Mackenzie Wilkey said. "Everyone knows that there is something going on and that kind of thing isn't very pleasant, but besides that it is fine."
The two fights happened during lunch on Wednesday and Thursday. Principal Wes Solomon said in an email to families that the school is working with the police and district attorney to investigate both fights.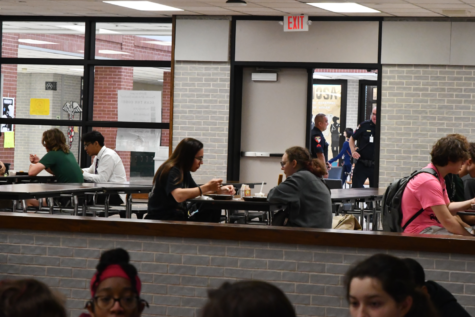 Students worked to adapt to the first changes implemented Friday. Flex Hour allowed students to have a full hour to eat lunch, go to tutoring, go to clubs or just relax. Because of the fights, three lunch shifts have been created and Flex Hour was dissolved. 
"It's kind of annoying," junior Paul Knapschaefer said.  "But I know it's what they have to do to try and reduce everything, so I think in the long run it's better." 
The lunches were sorted by fifth period classes. Lunch A is made up of English, Science, Life/Applied Skills/SPED, STUCO, A/V Productions, and e-sports. Lunch B is made up of social studies, teen leadership, foreign languages, credit recovery, aides, ESOL, ROTC, agriculture, health science and journalism. Lunch C is students from math, athletics, law enforcement, band, orchestra, choir, art and forensic science. 
The new bell schedule and lunch shifts will remain until further notice. Associate principal Tiffany Major said the administration will work to help teachers looking to accommodate kids who still need tutoring sessions or to makeup tests – activities typically held during Flex Hour the past four years.
"I can see for sure, three lunches going next week, then we'll reassess based on how things are going and see if we can reinstate flex hour," Major said. "Maybe with some modifications to make sure that everybody's safe."
While three security officers are usually on campus, there were about 10 spread throughout the campus and at entrances Friday. The increased security will continue through at least Monday, Major said. 
"I think it's been a pretty calm day," Major said. "We had plans to make announcements over the PA system to make sure people understood how to release classes, and so far it's been good."