New coach, new changes transform color guard
Exa Nix, Staff Writer
September 27, 2022
New color guard coach Esber Ramos is busy getting to know all his new students, as well as making changes to the program. He is moving the team down a level in competition so they can better prepare for competitions.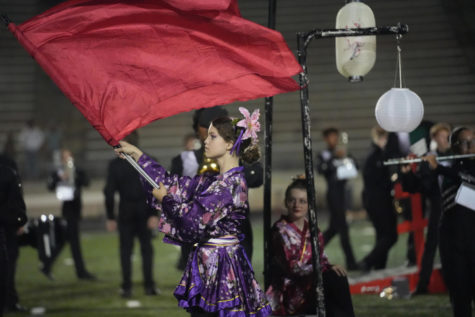 "It's so they can be more successful," said Ramos, "as opposed to just telling them we have to do all these crazy things." 
This semester the team will take part in five competitions. Ramos, who is in his second year in education, said he enjoys seeing the progress of his students and watching their passion for the sport grow. 
"We have been hitting dance hard recently and we're starting on weapons," sophomore color guard captain Aundrea Palmer said. "We're like a little family."
In high school Ramos joined the color guard team. There he found his passion. In college, he competed on a competition team for a couple of years. 
"I was able to grow out of my shell," Ramos said. "Being in guard showed me what a family could be like."  
Starting at a new school is challenging, but new students and new staff is exactly what Ramos enjoys. Ramos encourages anyone interested in color guard to try it out.  He looks forward to a new year at a new school. 
"It's been amazing," said Ramos. "I'm very very fortunate, I wouldn't want to be anywhere else."