Overmyer Overcomes
Senior Patrick Overmyer has dealt with injuries and position changes to find success.
After months of begging, Patrick Overmyer was finally able to pad up and play football. He was 10 years old and not quite sure what he was doing. 
"Go to him, make the tackle" his two older sisters jokingly yelled as he stood there not knowing to lead the defensive play.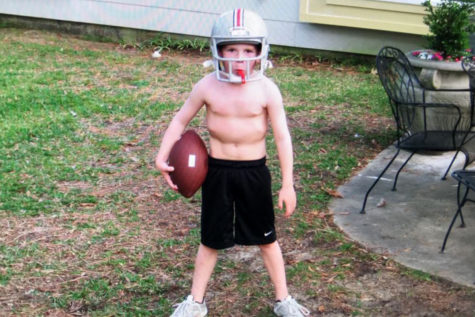 Overmyer's parents didn't initially let him play football because he was too young. It wasn't until he kept asking over and over again that his family budged and signed him up in the fifth grade. Although he was one of the youngest and therefore smallest on the team, the coaches put him in as a safety, which allowed him to tackle players on the other team. 
"He really didn't do much," Patrick's mom Holly Overmyer said. "He just kind of stood back there and never tackled anyone, never did anything. I remember joking with my husband, like, we need to put him on the line just so he gets tackled so he knows what this sport feels like, because I don't think he had the instinct to just go up and tackle somebody."
They soon recognized that Patrick had a good arm, and he became a quarterback the following year. 
"That's when he seemed more geared to – not initiating the tackle but initiating the offensive play," Holly Overmyer said. "He always did a good job as quarterback, so that's when we realized he's more of an offensive player than a defensive player."
Ever since the beginning, the Overmyers have gravitated toward sports. Patrick's dad was a quarterback. His mom played volleyball at Ohio State. His two older sisters Libby and Hannah played Division I volleyball. 
"I definitely think being around that my whole life has made me want to be an athlete," he said. 
But one thing his parents wanted him to know was that there was no pressure from them. They made sure to support him through each decision he made. 
"We made sure Patrick didn't have any pressure," Holly Overmyer said. "Just because I did it or the girls played college volleyball, there's no expectation on us that you need to play a sport."
Although Overmyer grew up playing multiple sports, football is the one that stuck. When he's not studying or doing homework, he's out training – not only because he wants to be the best, but because he simply loves it. 
"I feel like I work hard and I always get my work done in school," Patrick Overmyer said. "And in my off time, sports is what I like to do. So when I train for those, that's what makes me happy. That's my life." 
That's why his shoulder injury last year left his football career at a standstill. While competing with Jaxon Sims for the quarterback position, Overmyer got injured.
"
I feel like I work hard and I always get my work done in school. And in my off time, sports is what I like to do. So when I train for those, that's what makes me happy. That's my life."
— Patrick Overmyer, senior
"We were devastated with his injury last year," Holly Overmyer said. "I mean, it was very hard on him because he really thought that junior year, he was going to break out as a quarterback, and then that didn't happen." 
Because of his surgery, he wasn't medically released until the end of July. However, that didn't stop him. He relentlessly worked at building his muscles, getting stronger and eventually getting back on the field. 
No one had to tell him to go out and practice. Patrick never complained about working out. His self-motivation pushed him to train as hard as he could to get even more powerful. 
"He would go up to the school and do footwork, agility completely on his own," Holly Overmyer said. "He just never laid around and did nothing and then talked, 'Oh, I want to play college football.' Like, he owned it and he just was self-driven."
When the news came right before school started that Sims would not be returning to play quarterback this year, Overmyer and his family were in shock. The coaches turned to Overmyer to take Sims' place and lead the team as the quarterback, only a week before practice began. 
"It was hard, because I was playing tight end," Patrick Overmyer said. "That's what I was supposed to play this year. I was training all summer to be a tight end. Right before fall camp, they told me I was going to be quarterback."
Like every other challenge, Overmyer faced it head on. Although it wasn't planned, the Overmyers believe it was a blessing in disguise.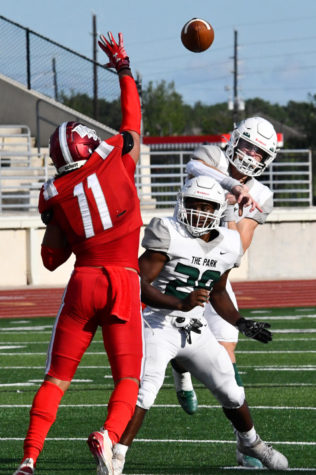 "Well, this is the path God laid out for you, so embrace it," Holly Overmyer told Patrick. 
After the coaches offered him the position, Overmyer immediately took on the role and leadership. He worked that much harder for not only himself, but now the rest of the team. 
"You just see he leads by the way he carries himself," football coach Clayton Maple said. "The way he practices and all of those things. So there's a lot of really positive things to say that go along with Patrick."
Although Patrick is determined to lead this team to victory, he also is enjoying the last few moments in his high school football career with his teammates, and the "brotherhood" they have formed. 
"I hadn't played a varsity game as quarterback, so being back there winning that big was really fun," said Patrick Overmyer, who led the team to a 45-7 season-opening win against MacArthur. "To be out there with all my guys I've been playing with since middle school with the crowd and everything, it was really fun."
As far as Patrick's future in football, he's still undecided where he will continue his career. He's received offers from the University of Pennsylvania, Princeton University, The University of Texas at San Antonio, Lamar University, Jackson State University and Colorado School of Mines. He visited five college campuses this summer to pick the perfect school for his football and academic careers. 
Patrick is thinking about studying engineering or something in the finance industry because of his mathematical skills. 
"I've just learned that college is a grind," he said. "I think if you think high school is hard, college is a whole other level. They train so much and then they have work on top of that and all the traveling. I just know it's going to be a grind, but that also excites me too." 
As Patrick continues in his last season, he remembers the lessons and hardships he experienced over the years. He uses them to push toward his goals for himself, his team and his family. 
"I just don't want to let them down," Overmyer said. "But it's like we're not usually known for football. So I want to be the team to start the culture of us being good."