[Staff Editorial] Outdoor pep rally fun, but needs more students
The weather was perfect and the sunset on the football field provided an amazing backdrop as the homecoming court was announced.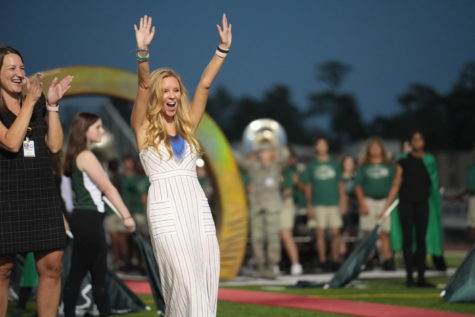 The structure of the homecoming pep rally remained much the same: band, cheer and Silver Stars all performed. The school continued the tradition of beaus and sweethearts and the red wagon parade. All the underclassmen winners on the homecoming court were also crowned.
However, for students used to a packed gym of cheering classmates there was one missing piece at the first community pep rally – more students. Community involvement at the pep rally is a great idea, especially for parents who want to attend their children's events. But for it to be a successful pep rally, more students need to be there.
The homecoming pep rally occurred at 7 p.m. when many students were busy at jobs, doing homework or were home and unable to get back to campus. This led to low student attendance, especially in comparison to adults in the stands at the pep rally.
While there is no room in the gym to include parents during the school day, a compromise could be for the homecoming pep rally to be held outdoors at 3 p.m. Students would already be at school, and parents could attend the outdoor pep rally if they wanted to. This could help encourage students not directly involved in the pep rally to show up and support classmates.
With increased attendance both bleachers would need to be open. For this year's pep rally, only the home side of the stands was open. In the future, one side of the bleachers could be a specific student side and the other for parents. A portion of the track around the field could also be used for overflow seating.
With a few adjustments, community pep rallies seem like the ideal choice. Afternoons would allow more accessibility for students, while also giving those who do not enjoy pep rallies the option to go home. Students can have their friends cheering on their creative floats and parents can get all the photos they need.
The sunset might be missing but the increase in school spirit will make up for it.