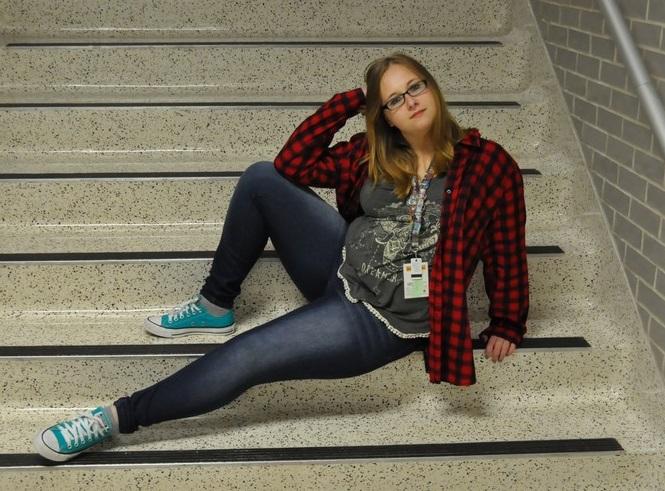 "When your looking at screen it's not like you're really there. It's like you're watching it on TV. But the first time he walked on stage you knew he was real," - Allyssa Reed, senior.
---
Allyssa Reed is a music lover, but found it very difficult to go to concerts i
n
her home town of Washougal, Washington, about three hours away from Seattle. However, when she moved to Kingwood two years ago
,
she found that many shows were only 45 minutes away by car. Since then
,
Allyssa has seen One Direction, Panic at The Disco, Blink-182, All Time Low, Sleeping With Sirens, 5 Seconds of Summer, A Day to Remember, All American Rejects, and, of course, her favorite singer Ed Sheeran. The first Ed Sheeran concert Allyssa went to was the only concert where she has cried hysterically. Allyssa, her mother, and her sister were about 15 feet away from the stage when Sheeran came out for the show. Seeing him for real is what broke her.
---
- 
Sydney Woodward
, Co-Editor in Chief
Allyssa Reed, Opinions Editor
May 23, 2017

Special Education: behind the scenes

(Story)

May 23, 2017

Ed Sheeran dominates top charts with new album

(Story)

Mar 10, 2017

New librarian brings life to K-Park's library

(Story/Media)

Mar 10, 2017

Ed Sheeran rocks top music charts with two new singles

(Story)

Jan 12, 2017

One Direction member Louis Tomlinson releases first independent single

(Story)

Dec 13, 2016

Seniors give underclassmen driving tips

(Story/Media)

Dec 13, 2016

Green Day returns better than ever with `Revolution Radio'

(Story)

Nov 01, 2016

Lady Gaga comes back down to earth in "Perfect Illusion"

(Story)

Oct 27, 2016

Parrish beginning new chapter in life

(Story/Media)

Oct 03, 2016

Twenty One Pilots reinvents My Chemical Romance's "Cancer"

(Story)

Sep 29, 2016

Panic! at the Disco reveals dark new music video for "L.A. Devotee"

(Story)

Sep 07, 2016

Blink-182 steals the stage at Cynthia Woods Pavilion

(Story/Media)

May 26, 2016

Asking Alexandria new album "The Black" is better than ever

(Story)

Mar 01, 2016

From the ground up to your heart

(Story)

Jan 27, 2016

Death of a Bachelor By Panic! At The Disco Album Review

(Story)

Nov 18, 2015
Nov 16, 2015

One Direction highlights each voice in "History"

(Story)

Nov 09, 2015

All-American Rejects surprises fans

(Story)

Nov 01, 2015

All Time Low and Sleeping With Sirens perform well live

(Story)

Nov 01, 2015

One Directions song perfect, is not so perfect

(Story)

Oct 03, 2015

One Direction keeps getting stronger

(Story)

Dec 15, 2014

Egg project offers students parenting experience

(Story/Media)