Kanyiki looks forward to future at Texas College
Despite just one year on varsity, senior defensive back Brandon Kanyiki signed to play football at Texas College.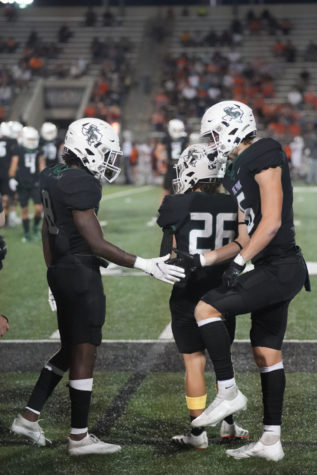 Kanyiki played football at Kingwood Park as a freshman but moved his sophomore year and did not play. When he returned his junior year, he was a transfer and had to play JV before finally suiting up for varsity as a senior.
On Wednesday, he joined five of his teammates as they signed national letters of intent to play football at the next level.
"My family was just proud," Kanyiki said. "Just two years ago, I wasn't even playing football. I had one year on varsity to prove myself and show what I could do. Compared to four years, like everybody else had, that's not a lot of time. But I'm just proud I made it happen." 
At Texas College in Tyler, Texas, Kanyiki was recruited as a wide receiver and as a defensive back. He is excited to see where his college career leads him.
"As for football, I am just going to keep working and see where that takes me. But I'll always have school to fall back on," said Kanyiki, who plans to study kinesiology. "It's every player's dream to go play past college. But right now, I'm just going to keep working and see where it takes me." 
Kanyiki helped lead the football team to the playoffs and a 7-4 overall record. He said he'll miss his high school coaches and teammates.
"A lot of football players in the pros say, it's not going to be the same since high school," Kanyiki said. "So I think I'm going to miss the high school aspect, being under the lights, with all your classmates in the stands and everything."
The other players who signed on Wednesday included: Erick Zapata (Texas Southern University), Pierce Richards (Colorado School of Mines), Hayden Bender (Davidson College), Patrick Overmyer (University of Texas-San Antonio) and Trent Savage (Houston Christian University).