"Leah." 
I finally heard my name and looked up.
"They're ready for you."
I stood up to walk through the large wooden doors that held the potential to make my biggest dream come true. 
I stepped in to see four interviewers on their feet. These were the people I needed to impress. I went around the table shaking each person's hand before I settled in my seat across from them. 
I had been a student and volunteer at the First Tee, a nonprofit golf program since I was 7 years old. The First Tee offers a variety of life-changing opportunities for its golfers but there was only one I had my eye on since elementary school: Pebble Beach.
The PURE Insurance Championship at Pebble Beach is a weeklong trip of playing one of the most beautiful golf courses on the planet. 
To be selected, participants have to first apply within their chapter by answering a series of essay questions. From there, participants then move on to the interview where a panel determines, which, if any, opportunities the participant may apply to.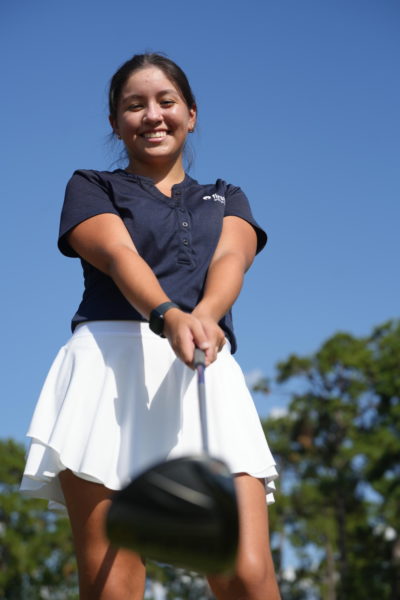 After being approved by the panel, participants are allowed to submit an official national opportunity application. The final committee reviews the pool of applicants from across the United States and makes the final cuts. 
I knew I was a good golfer, active member and dedicated volunteer. I was the exact type of candidate they were looking for, but that didn't decrease my nerves. 
Although I prepared by rehearsing proper interview etiquette and practicing questions with my family, nothing prepared me for the impact the interview would have on me. 
The second I walked in the door, my entire body shook. I tried to hide the quiver in my voice and hoped they didn't notice the bright shade of red my face had turned. 
I trembled as I gave half-decent answers, hoping my long volunteer hours and low golf scores would do the work for me. But nothing could compensate for the meaningless answers I rambled in response to the panel's questions. 
I walked away from the interview feeling defeated.
Later that night results were released. I hadn't made it to the next round. I was one of the most involved golfers on the list and yet I was one of only two to not advance. I cried. I cried for hours. Why had I done so terribly? 
All I knew was that it would never happen again. I would never let myself fail because I was too nervous or because I didn't know what to say.
A few weeks later, I enrolled in a Dual Credit Lone Star Speech and Communication course over the summer. The class made me the most uncomfortable I had ever been.
Speeches left me completely vulnerable in front of my older peers and under the scrutiny of my professor. 
I worked hard to calm my nerves and to increase my confidence with hours of preparation. By the end of the six-week course, I could  see the difference in myself. 
I had found my voice. I was still a bit nervous to speak up but willing to do so whenever I wanted. I could let the words flow calmly and thoughtfully, a superpower now in my arsenal. 
When the next year's applications for national opportunities rolled around, I knew what I had to do. 
I spent hours a day preparing myself for the interview. I read through the feedback I was given and worked tirelessly to improve every category. 
I printed my golf and academic resume for each interviewer. I took notes on important lessons taught in First Tee classes in case I was asked about them. I even wrote small notes for any statement I planned to make if they asked for elaboration or an example. 
I wish I could say that I wasn't nervous walking up to the large wooden doors the second time around. 
I was more nervous than the year prior. It was the last shot to apply, the last chance for my dream.
As the interviewers asked questions, I took pride in my collected answers. I didn't feel scared to hear a question that I hadn't prepared an answer for. I felt challenged and excited to share my thoughts. 
Leaving that interview was one of the best feelings ever, shared by the feeling of opening the results that night to see I had moved on to the next stage. And only topped by receiving the email saying that…
I AM GOING TO PEBBLE!