Romig, Torres lead golf teams to Regionals
For the first time, both the boys and girls varsity golf teams won district champs and advance to the regional tournament in the same year. In addition, senior Jayden Romig and junior Leah Torres got first place individually. 
"It makes me proud as a coach to know that [Jayden and Leah] put in that work," golf coach Angela Chancellor said. "We watch them play on the weekends, we watch them play all summer, we watch them go to practice all the time. They stay late and just play a lot of golf."
Final hole lifts Romig to win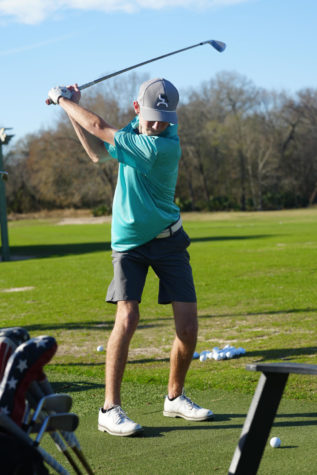 Romig shot 76 the first day and 74 the second day. Going into the last hole, he was tied with a player from Huntsville. 
"They were both passionate about what they were doing and they were both capable of winning, it was just the best man at the end was going to win," Chancellor said. "The fact that they were both in the same spot in the fairway, they both had a chip to the green, in regulation, and Jayden hit his a little long and the other kid hit his a little short."
In the end, Romig made the last chip in the hole securing the first place spot. The highlight of his day was having his family and teammates by the green watching him finish the last hole.
"It's one of those things that I've wanted, that's just coming in and seeing your whole team there," Romig said. "It's one of those feelings where they are kind of looking up to you. I think that was the highlight of the year and it feels good for everyone to be there and watch."
He was excited to hear that the whole team was going to regionals. He thinks their main focus should be work on the mindset of, every shot matters and that one bad shot doesn't determine the whole round. 
"It's been a blast. I wouldn't have rather done this with any other guys," Romig said. "It's one of those things we're we're still having a good time, but we're grinding our butts off trying to make it."
Torres holds onto lead on second day
Last year, Torres finished second with a 73-73. This year, she shot 80 both days and finished first. Going into the second day, Leah had a three stroke lead.
"Her consistency is what keeps her going," Chancellor said. "She never makes more than a bogey – very rare. She always keeps it in play, she's steady around the green, gonna get up and down most of the time. Her misses aren't as big as a player that shoots 90."
Playing with a small lead added some pressure and caused some doubt for Torres, but she chose to play conservatively most of the day. 
"The biggest challenge was staying focused on my game and not on anyone else," Torres said. "I really wanted to win but the only way to do that was not thinking about the results and taking it one hole at a time." 
Leah was really happy to hear that the whole team made it to regionals. A year ago, only she and Kendall Kerr, a 2022 graduate, advanced. 
"During my freshman year when we made it as a team it was a blast," Torres said. "It was more about having fun than qualifying for state, so I think this year it'll really help to get that pressure off and just be with people that you know care about you and just to have fun."
The regional tournament will take place April 17-20. The girls will play Monday and Tuesday and the guys will play Wednesday and Thursday at Rockwall Dallas. The course is a combination of two different courses with one nine on the water and a lot of wind. The other nine are in a neighborhood but very elevated. 
"The main thing for us is just going to be able to control our distance with the wind because we're not used to paying in that much wind," Chancellor said. "We have been practicing on the simulator too with windy conditions. We've put some kids on there trying to see how many [different] clubs you have to hit."