Tiedtke, Hargrave earn top ranks in Class of 2022
When the school announced its top 10 graduates for the class of 2022, Kate Tiedtke was named valedictorian and Kate Hargrave was named salutatorian. The rest of the top 10 included: Emily Bernal, Andrea Cardona Sanchez, Michael Kell, Evan Hebert, Kathleen Ortiz, Skylar Patton, Rachel Morris and Reece Cavallo.
 Tiedtke will attend the University of Texas in Austin to major in biology with the intention of taking the medical prerequisites. Her goal is to help others like those who have helped her.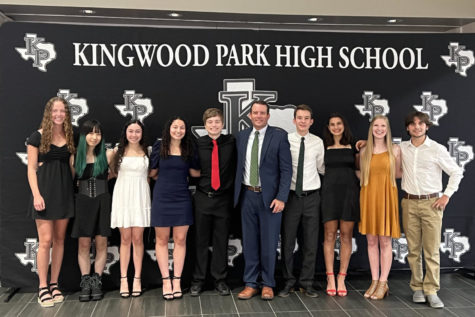 "I want to go to med school and be a cardiologist because I have always known I wanted to have an impact on others and give back to the community that has done so much for me," Tiedtke said. "I think that by going into cardiology it'll be really cool that I can help others with what I have been through because I know how it's truly been." 
Tiedtke went into cardiac arrest her sophomore year. Recovery was challenging and she missed weeks of school. 
"I was just very setback because I had to make (up finals and homework) on top of learning new curricula. It was very stressful," said Tiedtke, who was involved in soccer, STUCO and five honor societies. "Then I went virtual my junior year, because of my health concerns; and when I was in virtual, there was just a lot of mental stuff I had to deal with." 
Trying to balance classes and keep up with the work from home was challenging. At one point, Tiedtke even dropped AP U.S. History. 
"That honestly made me feel so much better, and it wasn't about being at the top of my class but about being happy and doing the things that I enjoy," Tiedtke said. "It really helped a ton. It helped me get back into a positive mindset and be able to work hard and continue on with what I was doing."  
Tiedtke's motivation and inspiration came from friends who helped her get caught up in school, her mother who helped her in making decisions, and ultimately her grandmother.
"My grandma has taught me the importance of finding a balance between working hard and having fun throughout life," Tiedtke said. "There isn't a day that goes by without a smile on her face, but as soon as help is needed, she is the first one present to give her full time and energy to others."
Hargrave will also attend the  University of Texas in Austin to major in environmental engineering with the hopes of helping revive the environment. 
She was shocked when she was announced as the No. 2 student in the class. She spent most of her high school career at No. 3. 
"It meant a lot to me that I made a lot of sacrifices and took all the hardest classes and I almost lost hope that I wouldn't be able to get this position, but in the end I made it," said Hargrave, who is in four honor societies.
To avoid adding stress about being in the top 10, Hargrave never mentioned to anyone about her rank as she wanted to remain focused.  
Counselors Tim Hurlburt and Gina Sanchez have helped her through the stressful times. 
"I would say the counselors were a very big help because they knew the amount of baggage and stress I carried," Hargrave said. "They were just there for me the entirety of the time because they just knew how much stress I was under."
Both Tiedtke and Hargrave will give speeches during the graduation ceremony on May 28 at 5:30 p.m. at NRG Stadium.
"I want to mention some things I feel like other speeches don't fully talk about or go into detail about," Hargrave said. "I want to talk about mental health and learning disabilities because I really believe that anyone could have had this spot; but because the school system doesn't necessarily facilitate some of those problems, many students aren't able to reach their full potential."
Hargrave's advice for the underclassmen is to find happiness within themselves and do things they are happy doing.
"Stay true to yourself because at the end of the day, you need to find happiness within yourself before others can make you happy," Hargrave said. "Find validation within yourself."