Five fine arts teachers to leave Kingwood Park
The fine arts programs will undergo major changes in the fall with new teachers in the theater, choir, orchestra and band programs.
While band director Robbie Sitka is stepping away from teaching, theater teacher Jamie Windham, orchestra director Josh Taylor and choir teacher Ben Fahnders are switching schools at the end of the year. Assistant choir teacher Jordan Gallardo is also not returning next year. 
Taylor and Windham are both moving to Autumn Ridge Middle School, which is Humble ISD's brand-new middle school opening in August. 
"I'm building a new program, starting from scratch," Windham said. "Getting kids interested and gaining community support."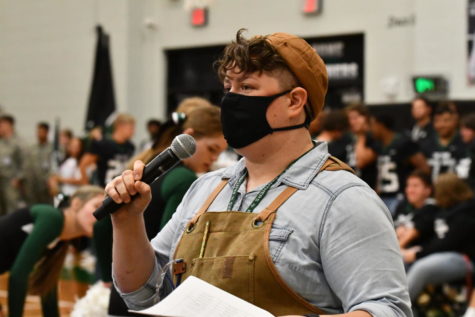 Both Windham and Taylor are moving schools for the opportunity to start a whole new program. That is not the only perk though.
"It's way closer to my house," Windham said.  "And middle school has been my focus since graduate school. It's a chance to get back to middle school."
For Taylor, it's all about the new experiences and difficulty that comes with teaching middle schoolers.
"I'm most excited to teach at that level," Taylor said.  "Middle school is very different and it's challenging so I'm interested in a new challenge."
He will miss his students though.
"These kids are amazing," said Taylor. "There are difficult things, but the kids here at Kingwood Park and especially in orchestra make things so worthwhile."
Fahnders will continue teaching choir at Deer Park High School as the assistant choir teacher. During his 10 years working at Kingwood Park, Fahnders has been the campus director of fine arts. He is excited to take a step back and spend more time focusing on his teaching. 
"You could just say hello and not get to know them. but that would be boring and gross," Fahnders said. "The shenanigans, the stuff that fills in the cracks — that's the part that I enjoy the most."
In three years at Kingwood Park, Windham enjoyed the relationships she got to build with students. She also learned all about the technical side of theater and will be taking it with her to Autumn Ridge. 
Fahnders had a hard time narrowing down his favorite memories from his years at Kingwood Park.
"I will never forget my first pep rally here," said Fahnders "I'm a new teacher here and I thought pep rallies were boring and stupid. That was the most fire pep rally of my whole life."
The teachers leaving have impacted countless students throughout the building.
"What I'm going to miss most is how much you get to learn when working with Windham," said sophomore Taylor Mattingly.
As new teachers are hired, Fahnders had just one piece of advice for who takes over their positions.
"Make sure you love what you do," said Fahnders "Make sure you're in it for the kids."